is CBD Medical Cannabis?
Dr. Christian Jessen answer your question
British media doctor and health campaigner, Dr Christian Jessen answer your CBD questions. In this video you will find out 'is CBD Medical Cannabis?' and other fundamentals about the compound found in cannabis.
Dr Christian on "is CBD Medical Cannabis?"
Whilst there are some prescription medicines available that are derived from or based on medical cannabis, the CBD products that are available to buy without a prescription or any sort of medical regulation are considered food supplements.
This means there can be huge variations in the quality and consistency of the ingredients they contain.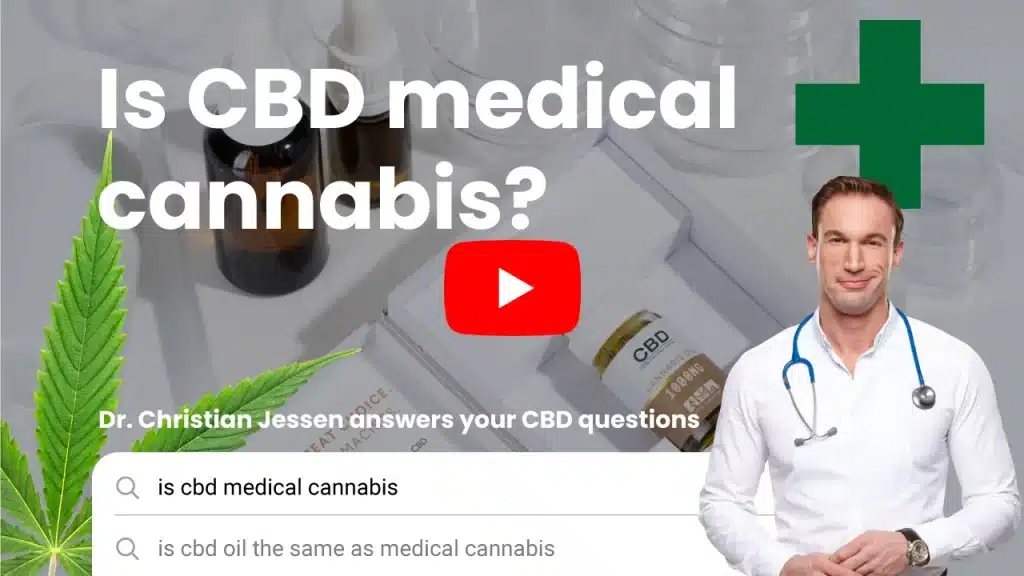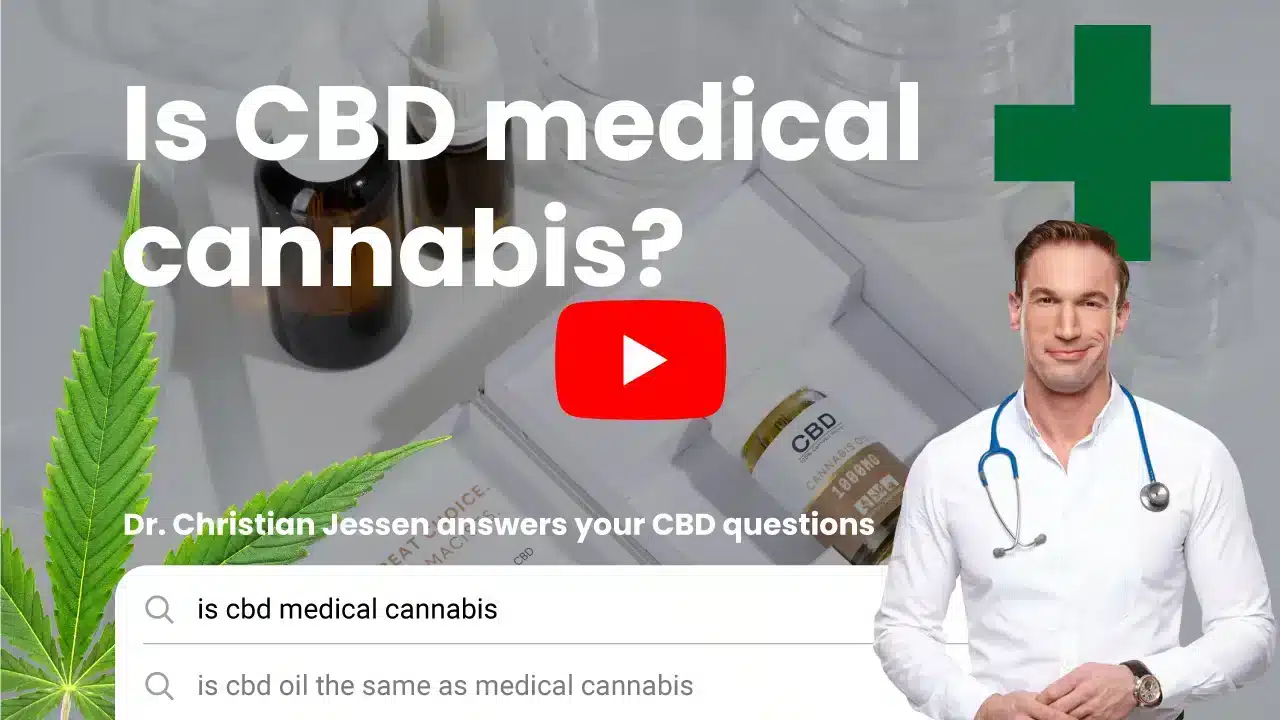 Take a look at the other videos in the Dr Christian's frequently asked CBD questions series by BRITISH CANNABIS™
Ask Dr Christian your CBD question, we will be putting more of your questions to the popular health campaigner and TV doctor to answer. Watch the educational, video series to find out more.
BRITISH CANNABIS™ answer your question
Cannabis itself refers to three plants, Cannabis sativa, Cannabis indica, and Cannabis ruderalis, with psychoactive qualities.
Weed, marijuana, and pot are the names given to the blossoms of these plants after they have been picked and dried.
Cannabinoids are a group of over 100 compounds found in cannabis. While more research is needed to comprehend the effects of the majority of these cannabinoids fully, scientists have discovered the two main components of cannabis, cannabidiol and tetrahydrocannabinol, as well as their actions.
CBD, or cannabidiol, is a chemical compound found naturally in cannabis plants thought to be helpful in the treatment of a variety of ailments.
The chemical binds to numerous receptors in the brain to induce therapeutic effects and is said to help with seizure control, stress management, and pain relief.
Cannabidiol derived from hemp is generally lawful in Europe, and many parts of the United States because hemp has low levels of THC (tetrahydrocannabinol), making it less likely to be abused.
Tetrahydrocannabinol is the principal psychoactive substance in cannabis, responsible for the euphoric feeling often felt after ingesting cannabis.
The substance mimics the activity of anandamide, a naturally occurring chemical in the brain, attaching to neurons in the brain and altering the normal communication functions.
THC has been demonstrated to have several health benefits, including raising appetite in those with eating problems, lowering nausea and vomiting in chemotherapy patients, and helping people with Parkinson's and Alzheimer's disease.
The substance is not widely legal across Europe. Malta is the first country to legalise possession for personal or recreational use, while several other European countries make it legal for medical use.
Although CBD and THC are chemically identical, they have distinct effects when taken.
CBD is an antioxidant, anti-convulsant, and immunosuppressant, whereas THC has anti-inflammatory, analgesic, and euphoric properties.
Medical cannabis, often known as medical marijuana, refers to compounds derived from the Cannabis sativa plant used to alleviate symptoms of certain medical conditions. Tetrahydrocannabinol, Cannabidiol, Cannabichromene, and Cannabinol are among the constituents of the drug. Each of these serves a different purpose. However, THC makes up a larger amount of marijuana.
In the United States, the whole plant Cannabis sativa or its derivatives used for any purpose is prohibited, but many states allow marijuana to be used for medical reasons. This is a similar situation in the UK where the use of cannabis is only allowed for medical reasons.
Patients with Alzheimer's disease, HIV/AIDS, Crohn's disease, multiple sclerosis, extreme nausea from chemotherapy, and other medical diseases can sometimes consume marijuana during treatment. As a result, it's critical to check your state's regulations.
While the misconception is reasonable, especially based on internet searches, CBD is not the same as medical marijuana.
In recent years, CBD has been a phenomenon due to its potential therapeutic powers when combined with a carrier substance such as coconut oil. It was approved by the U.S. Food and Drug Administration (FDA) in 2018 to treat Lennox-Gastaut syndrome and Dravet syndrome, both of which are paediatric epilepsy disorders.
Medical cannabis, on the other hand, is frequently given by doctors to patients to help them cope with the side effects of various medical treatments or the symptoms of chronic conditions.
These CBD products, purchased without a prescription or any other medical restrictions, are classified as food supplements. People who couldn't receive them as medications had to buy them via online businesses, markets, and retail outlets. Thus, the quality and consistency of the chemicals they contain can vary greatly.
Dangers of Unprescribed CBD Products
The CBD business appears to have grown into a multibillion-dollar industry practically overnight, with expectations of much higher sales in the future.
Its popularity has soared to the point where the ingredient is now found in various beers, sweets, and lip balms. Because the substance is so popular, individuals must conduct thorough research before purchasing it.
The THC/CBD ratio is one of the most important things to look for when purchasing an unprescribed product.
Unfortunately, no regulating authorities exist to ensure that CBD products marketed have the proper CBD/THC ratios. Hemp that has more than 0.03% THC is no longer considered hemp, but marijuana, according to the legislation.
Another issue is product mislabelling and the distribution of false information. Many recent studies have discovered that the information on the labels of many CBD products is incorrect. Many of them have actual CBD levels greater or lower than the labels and very high THC levels.
The most serious problem, however, is the uncertainty in regulatory legislation. The FDA, for example, has urged retailers not to sell CBD products that claim to cure a variety of ailments.
However, no harsh penalties have been issued to date, and the actual contents of many products are still unknown.
Understanding Non-Regulated Supplementation
Supplementary products are governed by a set of laws that are quite lax. While federal law mandates that all supplements be labelled as such, it does not require that the items be proven safe to the FDA's satisfaction before being sold. Furthermore, the law does not require that the
supplement be demonstrated to be effective before it may be sold. Thus, supplements reach the market before the FDA can take action against them. While supplement items as treatments or cures for diseases are prohibited by law, producers are not required to obtain FDA approval before developing, marketing, or selling these products.
What to Look Out for When Purchasing CBD Products
The good news is that there are many ways to be sure that the CBD product you're buying is safe. One option is to request a certificate of analysis. 
This certificate is a report prepared by a third-party testing facility that provides a full breakdown of the active and potentially harmful chemicals in CBD products for sale. 
It should show the amount of THC, CBD, and other active or harmful substances in each specific product offered and the quantity tested. 
Another option is to read the product label carefully to see how much CBD is in each serving; this is especially beneficial if the product is a food item like CBD infused chocolates or sweets. 
If the information is easy to comprehend, the company is likely legitimate; otherwise, you should avoid such things.
At CBD by BRITISH CANNABIS™, one of the U.K.'s longest-standing and largest CBD producers, the commitment to excellence in the development of our products and the transparency around them has been one of the cornerstones of our business since it was founded in 2015. 
Our customers are guaranteed the best CBD through our unique seed-to-shelf method. We extract CBD from our organically grown Cannabis Sativa L. and we are able to maintain our position as one of the largest producers of phytocannabinoid-rich cannabis in the world through our unique organic farming practice.
We ensure only quality products, potent and purity through our effective testing method using state-of-the art High Performance Liquid Chromatography (HPLC) equipment. We also run a full unique terpene profile and test for microbiological contamination, heavy metals and pesticides.
For more information. Check out our webpage on                                        CBD by BRITISH CANNABIS™ & ACCESS CBD®