ACCESS CBD UK – Our Story
When we say we are the UK's biggest CBD producer, it comes with half a decade of experience. When we say we do more than any other CBD UK company, it's because we do. When we say we have won multiple awards, it's because we have. When we say ACCESS CBD® is up to 70% cheaper than other same-strength CBD oils, there's data to back that up.
Find out how 5 years within the UK's young CBD industry has brought us to where we are today...
2015
The birth of BRITISH CANNABIS®

BRITISH CANNABIS® was launched with the objective of offering high quality, British-made CBD to a UK market that was in its early days and dominated by imported brands.

Operating from a small unit in Berkshire, United Kingdom with a couple of thousand pounds in start up capital, the business started a journey that would lead us to pioneer the CBD industry and set the exacting standards seen across compliant CBD UK products today.
2015
The groundbreaking Gel-Tabs...

As with everything we do, we aim for perfection and compromise is something we refused to do when we developed our first product. We had nothing to lose. The start up capital was small and this was a labour of love, not just a business.

We developed a ground-breaking consumer product, the CBD Gel-Tab™, the first single dose sublingual cannabis tablet. This product was an instant success, soon we moved to larger offices and expanded the business to meet demand.
2016
Our refined CBD oils become the top-selling herbal supplement on Amazon UK
After investing in a new laboratory and new equipment for our CBD extraction facility, a wealth of knowledge comes over from the US with the appointment of our Chief Scientist. We introduce an industry-first batch-level testing on all CBD UK products and publication of supportive analytical reports that validate the safety, legality and conformity of those products.
We co-founded the Cannabis Trades Association, that now represents 1000+ member companies globally; the largest CBD trade body.
2017
Our extraction facility starts to look a little like and episode of 'Breaking Bad'...

Mastering a 100% natural alcohol-based extraction method allows us to consistently produce a higher-grade extract than its CO2 counterparts. This was the first true full-spectrum extract that the industry had seen in Europe. Off the back of further investments in our scientific team and state-of-the -art molecular distillation equipment, we developed a proprietary THC removal process and launched our industry leading 75% THC-Free Distillate ingredient.
2018
We set up a cannabis farm...

Acquiring an R&D cannabis farm in Portugal allows us to concentrate on developing new strains, improving growing methods and expanding our knowledge.
2018
The UK's first Water-Soluble CBD...

We advanced a water-soluble CBD product, utilising liposomal technology and achieving 10 times the absorption of comparable products.
2018
Our CBD RESCUE CREAM® is clinically proven...

We developed, produced and launched a new CBD cosmetic, CBD RESCUE CREAM®. The UK's 1st clinically-proven consumer cannabis cosmetic.
2019
CBD HEALTH® range launched, as the first CBD product in the UK backed by science...

CBD HEALTH® from Canabidol® becomes the first range of lifestyle CBD UK supplements to be paired with vitamins and minerals that are backed with authorised EFSA health and wellbeing claims.
2019
Our CBD extractions expands into Europe...

We purchased an extraction facility in Europe, expanding our extraction capacity to meet demand.

New UK Cleanroom installed...

One of our largest investments to date. We installed a new Cleanroom at our Berkshire HQ to house our new GMP-certified production line.
2019
Won 'Best Pharmacy Product of the Year 2020'...

We received multiple awards for our CBD RESCUE CREAM® and 75% THC-Free CBD Distillate; including being awarded 'Best Pharmacy Product of The Year 2020' by The Independent Community Pharmacist.
2020
ACCESS CBD® is launched...

The company that brought you Canabidol® CBD UK supplements for the last five years, has been busy creating an exciting new CBD venture. It's time to revolutionise the CBD industry; with our experience that has pioneered the UK CBD industry from the ground up, we have earned an impeccable reputation as the leading authority in consumer CBD cannabis products. Our aim is to bring you a whole new dynamic to the industry, we want CBD Oil UK to be accessible for all. Expect premium quality and great taste!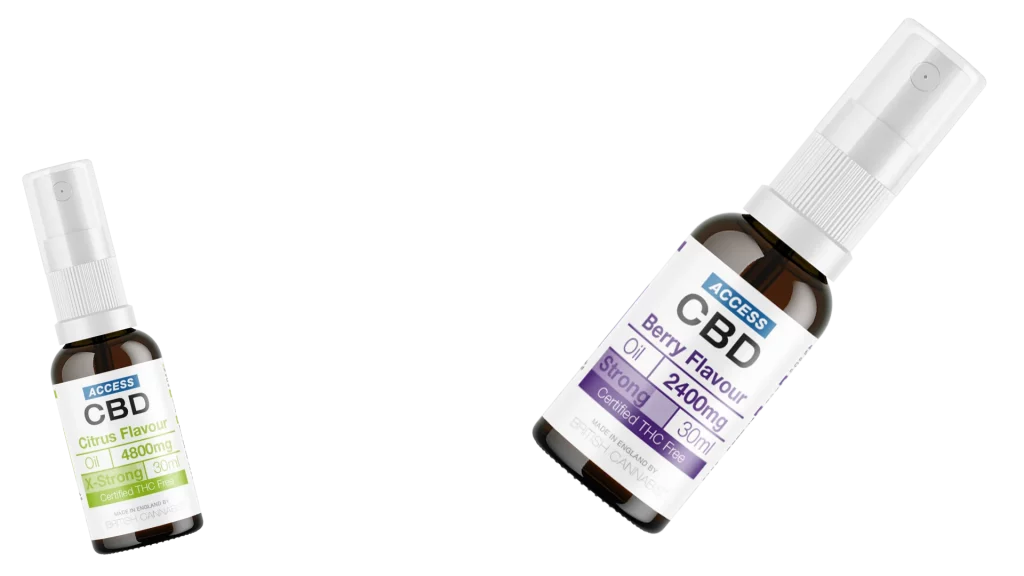 Why You'll Love
ACCESS CBD UK?
We produce affordable, great tasting, high-quality CBD oil priced 70% lower than the average market price. Sound too good to be true?
It's the honest truth, ACCESS CBD UK has the same CBD as more expensive CBD products, in terms of the core ingredient. CBD is CBD, our oils stand up to quality, taste and accuracy in tests. Just like other CBD Oil UK brands (possibly even better!). Subscribe below and get special offer from your favorite brand, Access CBD®.
Ask Dr Christian your CBD question, we will be putting more of your questions to the popular health campaigner and TV doctor to answer. Watch the educational, video series to find out more.
Frequently Asked Questions
We also have a list of answers to some of the most asked questions for you on our FAQ page. If you have any questions, we suggest consulting some of our extensive resources to find the best answers.