The popularity of CBD is growing, and people are looking for novel and exciting ways to consume the natural ingredient. One way to do this is by vaping CBD vape juice. CBD vape juice DIY can be an unobtrusive and simple method to enjoy the advantages of CBD and making your own CBD vape juice can be an economical solution for those wanting to tailor the experience. However, creating your own vape juice is not a task for a vaping beginner. 
Vaping CBD involves adding a CBD-infused e-liquid to the tank of a vaporizing device and heating the liquid to produce the vapour which can then be inhaled. This will allow for faster absorption and quicker onset of effects compared to other ways of consumption. You can DIY a CBD e-liquid by mixing CBD oil or isolate in a liquid carrier, and flavours that you prefer. It is important to remember that making CBD vape juice requires careful measurements, proper equipment, and adherence to safety guidelines because CBD products must be handled and consumed carefully. 
There are also reliable companies offering ready-made CBD e-liquids with a variety of flavours and strengths. ACCESS CBD stands out as an authentic source for top-quality CBD e-liquids that are third-party examined for purity and accuracy. With a wide range of flavours and strengths, ACCESS CBD® is an ideal choice for those who want to buy CBD oil products in the UK, including CBD e-liquid. 
But, what is CBD vape juice?
CBD vape juice can be described as a fluid that has CBD and can be vaporised or inhaled by using a vape pen or another vaping device. CBD is a natural substance that is found inside the Cannabis sativa L. plant. It doesn't cause the psychoactive effects typically associated with marijuana, but it has been found to provide a variety of health advantages. Vaping CBD has many advantages over other consumption methods, including a faster onset time and more precise dosage. There are many kinds of CBD e-liquids on the market, from a variety of flavours to strengths.  
Can I add CBD isolate to vape juice?  
CBD isolate is a pure form of CBD that has been isolated from other compounds in the cannabis plant. It comes in a powder or crystal form and is often used in DIY CBD vape juice recipes. The addition of CBD extract to your vape juice can be an easy and economical method of making your own CBD e-liquid. To achieve this, you'll have to mix CBD isolate with a carrier liquid like propylene glycol (PG) and vegetable glycerine (VG).  
When you do so it is important to follow dosage guidelines. Start with a low dose and gradually increase until you find the desired effect. Dosage is contingent on various factors, including body weight and tolerance, therefore, it is essential to try different dosages to determine the appropriate dosage for you.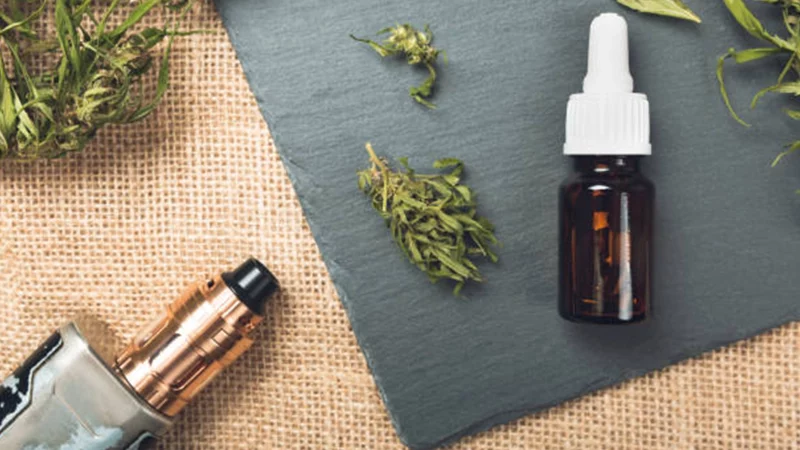 CBD E liquid DIY: Make Your Own CBD E liquid
To make your own CBD e-liquid a simple process must be followed that requires only a few ingredients and some equipment. To make CBD e-liquid at home, you will need CBD isolate or CBD oil, PG and/or VG, flavourings (optional), and a mixing container and utensils. 
Here is a step-by-step guide to making CBD e-liquid at home: 
Measure out your desired amount of CBD isolate or CBD oil.

 

Mix the CBD with PG and/or VG in a mixing container. The ratio of PG to VG can vary depending on your preferences, but a common ratio is 50/50.

 

Add flavourings to the mixture if desired.

 

Stir the mixture until the CBD is fully dissolved.

 

Transfer the mixture to a vape cartridge or tank.

 

Vape and enjoy!

 
When making CBD e-liquid at home, it is important to follow safety precautions. Wear eye protection and gloves while handling the ingredients and keep them in a secure location away from pets and children. 
We'd like to stress that whilst it is relatively easy to create your own CBD e-liquid at home, we do not recommend you do so as it is far safer to buy ready-made CBD e-liquids from a reputable supplier, such as ACCESS CBD, where all their e-liquids are manufactured in a clean room in the most precise way, and third-party lab tested to ensure safety and accuracy.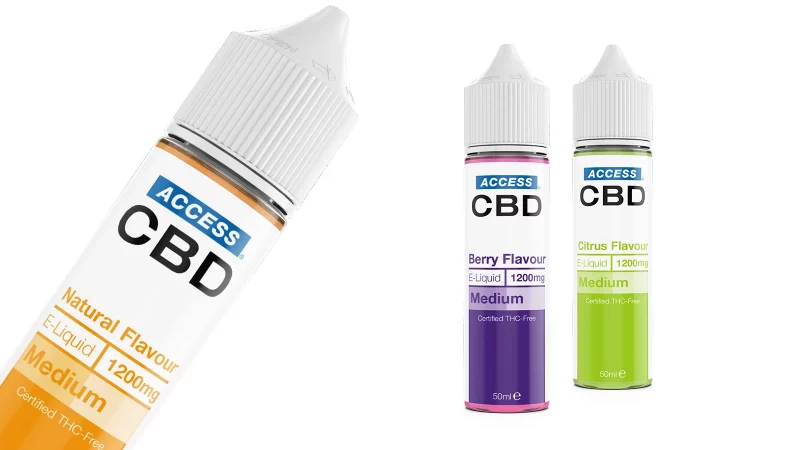 Where To Buy CBD e-liquid
When you are looking to purchase CBD e-liquid, it's crucial to select a reliable brand. ACCESS CBD is a company that provides high-quality CBD e-liquids verified by a third-party lab to be pure and effective. They have a range of strengths and flavours to select from and their customer support is excellent. 
ACCESS CBD offers a variety of flavours and strengths to select from, currently available in 3 flavours made from natural ingredients. 
Making your own CBD vape juices are a low-cost and flexible way to enjoy the advantages of CBD. The addition of CBD extract to vape juice can be an easy and efficient way to create your own CBD liquid. When creating CBD E-liquid at home, it's important to observe safety precautions as well as dosage guidelines. 
Picking a trustworthy and reliable brand such as ACCESS CBD is important when purchasing a CBD liquid. They provide high-quality e-liquids that have been third-party tested for purity and accuracy and their customer support is of the highest standard. You can make your own homemade CBD vape juice or purchase from a reliable brand like ACCESS CBD.