Cannabis vape liquid. Can you believe what you're reading? Well, you've read correctly, and yes, it exists. 
If you're researching this, you'll have likely heard all about CBD Vape Oil before. You'll know all about the many forms it comes in – you're an expert with sublingual oils, and a master of topical cosmetics. But did you know CBD oil can be vaped too? 
If you're reading this for the first time, plenty of questions will probably spring to mind. Is that even legal? Does that get you high? Or simply: What's the point in that then? Well, you're in luck! We're about to dive into the detail of all things CBD E-Liquids, sharing our in-depth knowledge whilst answering your burning (vaporizing) questions. 
But first, a disclaimer! We're not talking about the CBD Oils you'd spray under your tongue; they're not designed to be inhaled. In this article, we're covering something completely different: 'CBD E-Liquids', also known as 'CBD Vape'.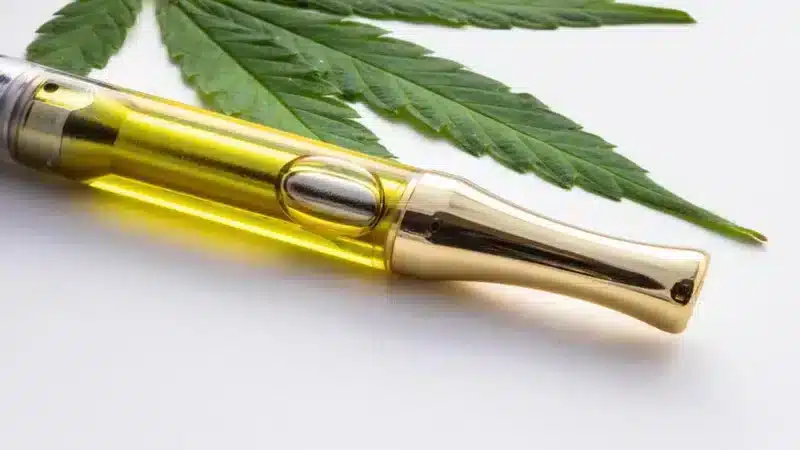 Quick recap: What's CBD?
Short for 'cannabidiol', CBD is a naturally occurring compound derived from the cannabis plant. No, it will not get you high. Yes, it is legal in the UK. 
It's impossible for CBD to make you 'high' or intoxicated as it does not carry psychoactive properties. This is in contrast to THC (tetrahydrocannabinol), another cannabis compound found in the cannabis plant, which does have psychoactive effects. 
For CBD products to be legally sold in the UK, they must contain no more than 1mg of THC per closed container. All ACCESS CBD® products are certified THC-free, as confirmed by our lab reports. Furthermore, it's also a legal requirement in the UK that all CBD products are registered on the Novel Foods List, regulated by the Food Standards Agency. Of course, all ACCESS CBD® products are included in this list. 
If you'd like to learn more about CBD, check out our FAQs, otherwise keep reading to discover all there is to know about our newly launched CBD E-Liquids.
What's so good about
CBD vape oil
s?
Think back to all the types of CBD products out there… you've got sublingual oils, oral capsules, and topical cosmetics to name a few. They all vary in something called 'bioavailability'. This is the amount of a substance that a living organism uptakes when they use a product. In basic terms, this relates to how efficiently the body absorbs CBD oil. 
Vaping is the most effective and efficient way of taking CBD. Why? Inhalation offers a much faster absorption rate versus other methods, thereby leading to increased bioavailability. 
Side note: although we're raving about the benefits of CBD E-Liquids, we do not advise non-vapers try these products. Sublingual CBD Oils still offer a fantastic way of taking CBD, with a high rate of bioavailability. 
Can you get 'high' from ACCESS CBD
®
E-Liquids?
No. As mentioned above, it's illegal for CBD products in the UK to contain THC (the part of the cannabis plant that makes you high). This goes for CBD Vapes too. 
ACCESS CBD® E-Liquids are enriched with terpenes, fruity flavourings, and contain CBD that is derived from naturally grown hemp. As confirmed in our very own labs, our products are certified THC-free, meaning you cannot and will not feel 'buzzed'.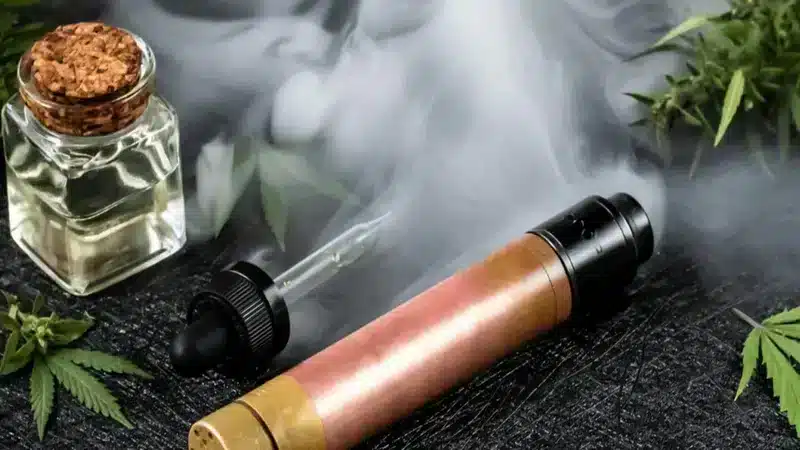 Is it legal to use a
CBD Vape
liquid in the UK?
Yes. In the UK, CBD is not a controlled substance, which means it's legal to sell, purchase and consume CBD Oil UK. However, to purchase vaping devices in the UK, such as vape pens, you must be over 18. The same goes for e-liquids, whether or not they contain CBD. 
Forgive us for repeating ourselves here. Vapes must not contain THC, just like any other CBD product sold in the UK. So, how can you be sure that your product is compliant? Manufacturers should provide a lab report, showing that the product is free from controlled substances like THC. Furthermore, they should confirm the concentration of CBD to make sure you're getting exactly what the label says you are getting. 
How much CBD will you get per tank?
ACCESS CBD® E-Liquids are available in a 1200mg and 2400mg strength variety in shortfill bottles, each containing 50ml of e-liquid. This makes them perfect for refilling a vape tank multiple times. Nevertheless, how much CBD is delivered per tank? 
Here's the quick answer. For a 2ml vape tank: 
1200mg strength delivers 48mg of CBD  
2400mg strength delivers 96mg of CBD 
If you're interested to know how we figured that out, get ready for some maths! Before we explain the process, here's the complicated looking formula: 
CBD Content Per Tank = (
X mg
/
Y ml
) x
Z ml
Now, let's decode it. Firstly, we'll figure out how much CBD is delivered per 1ml. Divide the CBD concentration of the entire e-liquid bottle (X mg) by the volume of the e-liquid bottle (Y ml). For a 1200mg ACCESS CBD® E-Liquid with a 50ml volume: 1200mg / 50ml = 24mg CBD per 1ml.  
Next, you'll need to know the size of your vape tank (Z ml). Simply multiply this by your answer above. Generally, capacities range between 2ml and 4ml. So, for a 2ml vape tank, a 1200mg ACCESS CBD® E-Liquid will deliver 48mg CBD (24mg x 2ml). 
Something useful to note is that our e-liquids come in 60ml shortfill bottles containing 50ml of CBD vape juice. This allows vapers to add nicotine to their e-liquid if desired. 
And there you have it! Now you can work out how much CBD your vape tank will hold. Please note that the average adult is advised not to exceed 70mg of CBD per day.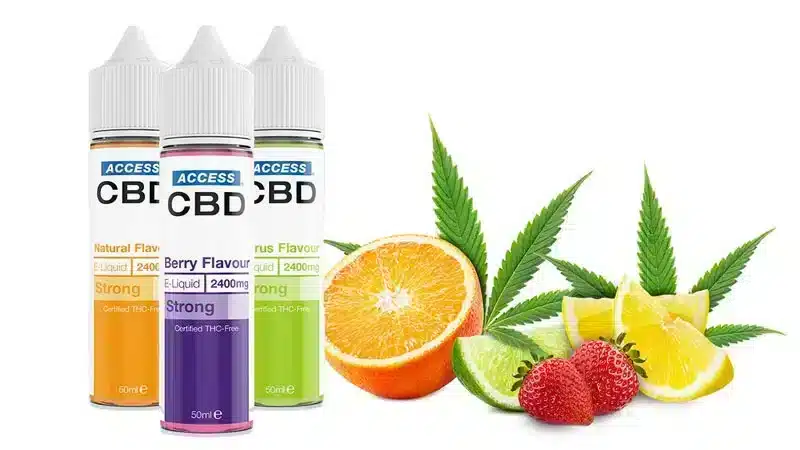 Try CBD E-Liquids for yourself!
Vaping offers the most effective and efficient way of taking CBD compared to other methods due to the increased bioavailability associated with vaping a CBD e-liquid. Plus, these e-liquids are legal, come in a variety of flavours, and are becoming more widely available. 
ACCESS CBD® E-Liquids contain several unique cannabis compounds and are now available in three great tasting fruity flavours: Berry, Citrus, and Natural, in two high-strength formulas: 1200mg (2.4%) and 2400mg (4.8%). They're lab tested for CBD accuracy, compliance, and THC-free status. These smooth CBD vape oils are suitable for most devices; however, we advise checking your device prior to use. 
For best results, shake well before use. Unscrew the cap and squeeze the e-liquid straight into your vaping device or vape tank. Each CBD vape oil comes in a 60ml shortfill bottle containing 50ml of e-liquid. This allows vapers to add nicotine to their e-liquid if desired. Once again, we do not advise trying our e-liquids if you have not previously used a vaping device before. For more information, please contact us on 0203 9652 420 or email us at help@accesscbd.uk.